Zack Fleming
Final Enlistment Ceremony
On a Sunday Afternoon, 6/25/1978, at Checkpoint Charlie
Major Bill Barker, Chief of Maintenance, Administering the Oath
Pictures by Donna Fleming

Zack takes the oath, Bill Barker administers it and SSgt Dave Maciejewski winds* his film.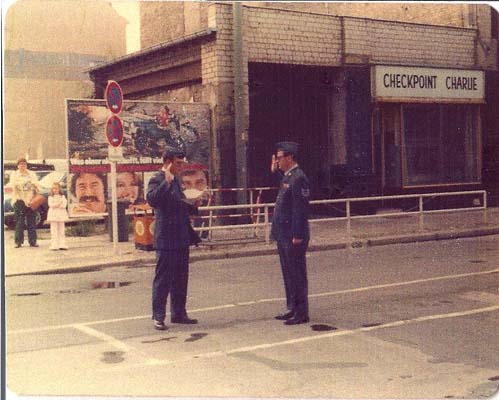 Dave's wife, Maryanne, and Zack & Donna's 8 year old daughter, April, witness the ceremony.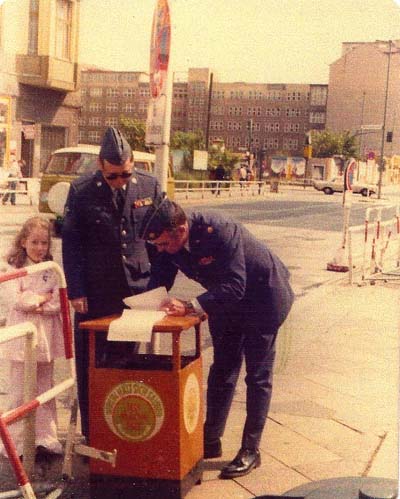 The Major dots the i's and crosses the t's while Zack prepares to sign and April looks on.
Major Barker remarked that signing the documents on a trash can probably had significance.
*Reports Zack:

"Dave was a 304 who worked for me in QC. He considered himself a semi-pro photographer and was taking pictures that day with his high-dollar camera, etc. Donna was using a Kodak 110 Instamatic. Guess what? Dave had just purchased an automatic winder for his camera and he anticipated the winding and every picture he took that day was blurred. He took quite a ribbing from me, Donna and Major Barker about a $15 camera taking better pictures than his big bucks stuff."

"What isn't shown in any of the pictures was the large group of "foreign" tourists wondering just what we were doing."

"And, ...after the ceremony, we all went back to Tempelhof for ice cream!"