Services
The Lay of the Land
1992
by Jim Kavanagh
(67-70/74-78)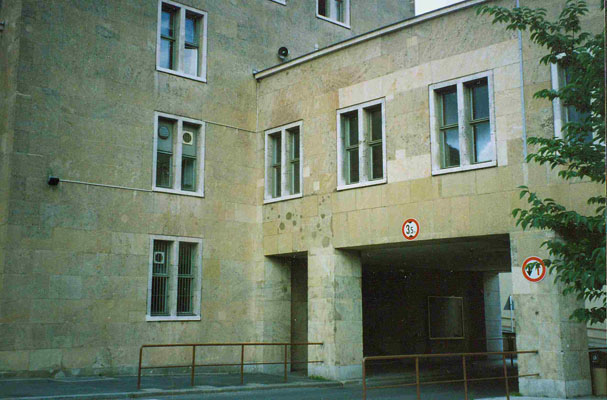 Entrance to the building that contained the paternoster, barracks, bowling alley, gym, etc. is under the covered passage.
After entering, the paternoster was to the left. Directly ahead was the large freight elevator. On the 6th floor was the gym, bowling alley and small snack bar. In the latter years of the base, the Transit Quarters Billeting Office was to the right. To the left past the paternoster was the American Express Bank and the doorway to the Transient Billets. The glass box on the wall to the right was the 7350th ABG Bulletin Board.
Exit the building going left and turn right into the area shown above.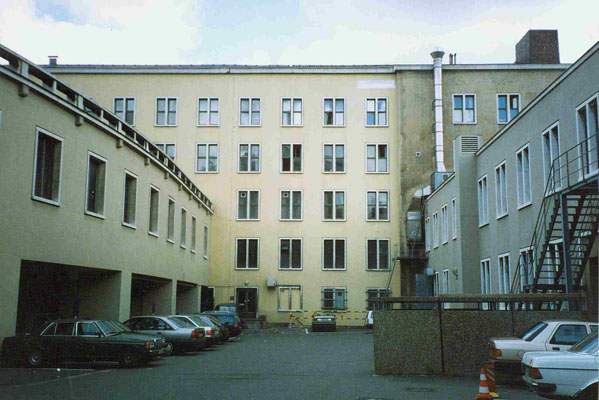 This area had the back door and steps to Club Silver Wings in the right rear. There was also a door at the far end that was a passage to the main gate under the NCO club. The Hobby Shops and coin-operated laundry are in the building to the right. In the far left corner was the Security Police Area. The main Base Exchange was in the building to the left along with the Barber Shop, Thrift Shop, Clothing Sales, etc. that were located within two hallways. (Note: Recall that the location of the services changed over time.)
Standing in what was indicated to be the Security Police area in the far left corner of the courtyard.
Looking back from the end of the courtyard, the paternoster, bowling alley, etc. were in the tall building to the rear. The hobby shops, etc. were in the building to the left and the hallway shops were in the building to the right.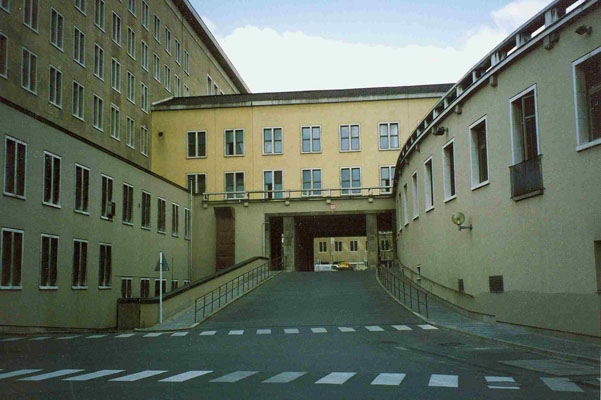 Continuing forward is the ramp to the Airport Entrance.
Looking to the left was the coin-operated laundry behind the glass block window and the entrance to this courtyard in the center.