Jim and Ann Blunt visit the Dragon and the Bear, June-July, 2006
by Jim Blunt (62-64); AFOSI (1967-1989)
July, 2006:
It was an ordinary picture of hurrying shoppers, strolling sightseers, and an occasional Militsiya patrol na Krasnoi Ploshchadi (in Red Square) except that standing in the middle were Jim and Ann Blunt. Not, perhaps, a very unusual event for an adventurous American tourist these days, but an awe-inspiring vista for a 203 whose travel restrictions were "indefinite" following a counterintelligence career in the Air Force Office of Special Investigations after the earlier 203 days [yes, there are even spookier things!] But there we were, admiring the Bashni Kremlya (Kremlin Towers).
February, 1965:
Nearing the end of my tour on Shemya, I was almost talked into re-enlisting for a guarantee of Tech Sergeant and a return to Syracuse. However, I had already been readmitted to Arizona State University, where the newly established Russian Department was happy to give me 24 language credits to join their BA program. I did, they did, and I finished up two years later with the idea of returning to USAFSS as a brown bar, with enough enlisted "been there, done that" ribbons to have a little bit of credibility, at least. I got into OTS, and found that the OSI, however, had different plans for a Russian language graduate. NSA and/or USAFSS could get in line. So, without an abundance of choice, I became a Special Agent, stationed first in San Francisco [Hurt me!] and then Notre Dame for an M.A. in Western Europe and International Relations. I went on to tours in Wiesbaden FRG, Turkey, and DC, all in Counterintelligence, and a tour as the Director of the DoD counterterrorism school [Special Ops command] in Florida. After one more tour in DC, I retired as a Lieutenant Colonel and switched to mostly more of the black world, involving the USAF and NASA, until finally calling it all quits in 2002, when we moved to the Florida panhandle to get away from the Beltway hassle.
I had long wanted to visit the USSR/Russia. Ann had been to Moscow and Leningrad [now of course, St. Petersburg again] 20 years ago but I hadn't been allowed to go. I wanted more than the usual tourist trip for us, and found a company called the Adventure Center that had the kind of trip I had envisioned. It was a combination of the Trans-Mongolian and Trans-Siberian railroad trips, and we added extra days both in China and in St. Petersburg. I had been fiddling with Russian over the years, but now I quickly got serious and bought the commercial Rosetta Stone courses [which I highly recommend] to get the language back to a practical level.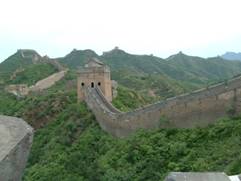 The trip that led us to Moscow, and then St Petersburg, began by flying Florida-Atlanta-Chicago and then non-stop to Beijing, where we started our 25-day, round the world adventure. We got from the Beijing airport to the hotel by taxi; spent a day on our own and then met our delightful, young Russian guide, Sveta (diminutive of Svetlana). She was our personal hostess and end-to-end guide, supplemented by local guides in the major cities, and never ceased to impress us with her enthusiasm, breadth of knowledge and resourcefulness. We were a 7-person group, ideal for a personal experience, composed of five Americans and two Aussies. We spent several days in and around Beijing, including a day at and on the Great Wall. Two of us braved a 15k hike on the wall which was almost entirely up and down often broken step-like paths. Our longest flat stretch was probably 20 yards! I'm in good shape with running and the gym, but that was TOUGH. We then began the long trip on the Trans-Mongolian and Trans-Siberian railways. For the entire rail journey, we shared a four person compartment with another couple. They were intrepid neighbors from Florida who had signed up with us; otherwise we would have paid either a prohibitive two-person supplement, or taken a chance on "rooming" with whoever might be placed in the cabin to fill the space.
Crossing from China into Mongolia was reminiscent of old border crossings into the DDR. The two countries are not friends, and that is made abundantly clear. They don't even share the same rail gauge so the undercarriage of each of the cars actually had to be changed before we could continue on into Mongolia! We then embarked on the journey to Siberia across the Gobi desert to the capitol of Mongolia, Ulaanbaatar. The dust storms across the Gobi were the least pleasant part of the journey. It was absolutely impossible to keep the dust out of the un-air conditioned train compartments. But really, how could we complain...the people who live in this environment deal with it each and every day. There was just nothing out here to sustain anything resembling life as we know it. On the train, everything and
everyone was liberally coated with fine, sandy dust.
Ulaanbaatar was a welcome stop, although not much to look at. It resembled a standard-issue East European city as they looked under the Soviets, more than any city we later visited in Russia. The city retained its obligatory statue of Lenin, while references to Chinggis Khaan [Genghis Khan] were everywhere. They've been out from under the Russians since 1990, but there is still a preponderance of drab, grey, square, concrete structures as well as miles of above-ground heating pipes. An interesting thing is that all the signs were in Cyrillic—the Mongolian designations had been transliterated by the Russians, and have remained that way. At least I could pronounce them correctly! And while all the traffic traveled on the "regular" side of the street, the vehicles were about ˝ and ˝ left and right hand drive. We were surprised at the number of "luxury" cars, including Lexus RXs curiously marked with Toyota emblems.
Once we'd had an opportunity to shower off the Gobi dust and spend a night in a non-moving hotel bed, we journeyed out of the city about two hours to the spectacular Mongolian countryside and spent the next two nights out in a traditional Ger, the round tent-like structure known generically as a Yurt in the [former] Soviet Central Asian republics. It was a surprisingly comfortable and fascinating experience made all the more enjoyable by finding ourselves in the middle of the summer Naandam festival, which included exhibitions of riding, archery and wrestling...all the skills that gave Mongolians ownership of China, Central Asia, Russia and lands all the way to central Europe in the 12 and 13 hundreds. We were also treated to visits with two local farm families so had the opportunity to see the interior of a "real" ger and watch the mares being milked. You haven't lived until you've shared fermented mare's milk with a nomad family...complete with a shaky smile and thank you since we were guests in their homes.
Back to the train again, and we were off to Lake Baikal and Irkutsk. The Mongolian-Russian border crossing made the China-Mongolian crossing look easy! While this crossing did not require changing any undercarriages the bureaucrats are bureaucrats everywhere, and your forms better be perfect! Add guns, scowls, and a serious attitude problem...and you get the idea. Sveta was raised in the Irkutsk area, so we got a lot of personalized touring around there and were delighted when she invited her mother and two brothers to Irkutsk to meet us. Lake Baikal is the world's largest, deepest lake (containing 20% of the world's fresh water), set in the largest continuous forest in the world – in a word, spectacular. We were introduced to several species of animals that exist only there, including a fresh water seal. The area is also known for its many surviving old wooden churches and homes with intricate carved decorations straight out of the 18th and 19th centuries.
The next leg, including three nights on the train, took us from Irkutsk to Moscow via Novosibirsk and Yekaterinburg, across the Urals, the Volga, and down into the birch forests and farmlands. Like most trains anywhere in the world except the U.S., these run on an exact schedule, but we took whatever brief opportunities we could to race off the train at the stops to run up and down the station stairs for exercise and search for the ever-necessary bottled water. An interesting peculiarity of Russian trains is that they all run on Moscow time, even many miles (and time zones) from Moscow. We just had to factor that into deciphering the schedules and pray we weren't off in our calculations. (If it's now 4pm in Moscow and we're two time zones away, or is it three??, and it's 1pm here, this must be the _______station, and we have a stop lasting 13 minutes...we hope).
Finally – we arrived in Moscow. Our hotel for this part of the tour was part of the old Olympic Village area so while it was comfortable, it was several decades old and not air-conditioned. In fact, none of the hotels were air-conditioned, but this is Siberia, or at least Russia, right? While we haven't seen the statistics, this past summer might have set records for heat. It was at or above 80 degrees for a surprising number of days.
Our local guide in Moscow was superb; and like several of the other guides she was an English teacher. As in each city, we also had a mini-bus to move us around the city from the heights high above the city, to the Kremlin, to the stunning national World War II memorial. When the bus was not available we traveled via the incredible Russian subway system, each station vying to out do the last. And we walked and walked and walked. It was almost incredible to find ourselves celebrating the 4th of July in Red Square!
Our last overnight train took us to St. Petersburg, a beautiful European-style city whose various sections are connected by dozens of bridges. St. Petersburg had recently celebrated its 300th anniversary and little expense had been spared to have it looking its best. We stayed in a small "brownstone" hotel that put us in walking distance of most of the places we wanted to see, including the Hermitage. And because it was July, the days stretched long into the night; the "White Nights" allowed us to see and feel quite comfortable walking around well into the night. Because the various portions of St. Petersburg are connected by numerous bridges and the port facilities are inland, many of the bridges are raised between 1:30 am and 5 am to allow ships to pass. Late in the day you can see the ships waiting off shore to enter. One night we were crazy enough to get up and walk down to the river to watch the bridges rise and the ships pass. Our fascination was somewhat dampened when we found that the bridge raising schedule made it challenging to get ourselves to the airport for our early morning flight home!
We hated for it to end. We had spent seven nights in our sleeping compartments on the trains, sixteen nights in comfortable hotels, walked many miles, and seen magnificent things that were now permanent and delightful memories. Would we do it again? Yes, but there must be another way across the Gobi!
[Info: The Adventure Center, Emeryville, CA, can be contacted through www.adventurecenter.com. They specialize in setting up small group journeys/adventures using Sundowners, a well known international travel company specializing in Asia. We've also come across them in southern Africa.]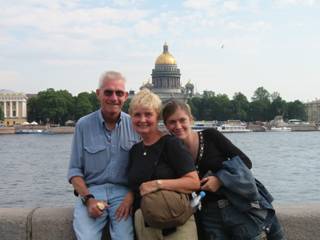 Jim and Ann Blunt with Sveta in St. Petersburg
© 2007, the Berlin Island Association