From the photo files of Jim Evans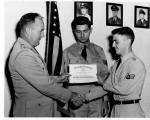 Photo of Jim Evans at his discharge with Squadron Commander, Major Gentry (59-60)
and Polish section head, SSGT Vern Karnatz (~55-60) who was Jim's boss at the time.
The year was 1960.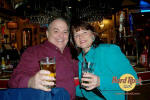 Clare and Jim imbibing their childrens' inheritance. The year was 2002.
Says Jim, "I haven't changed a bit."