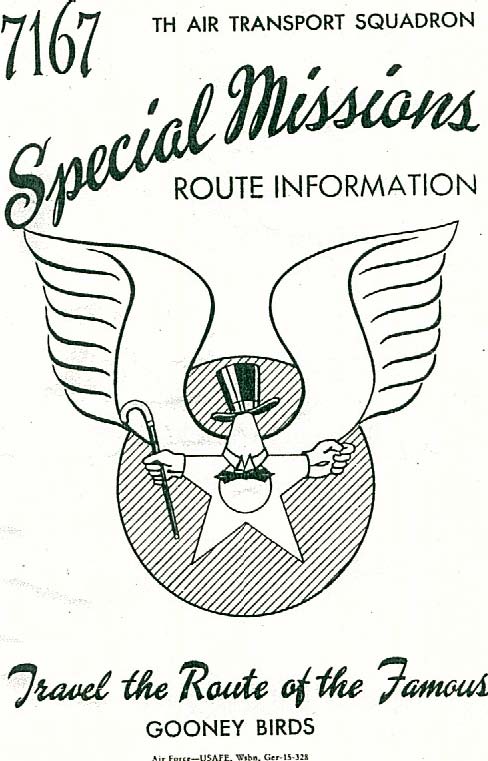 WELCOME ABOARD!

The 7167th Special Missions Squadron takes pleasure in welcoming you aboard our aircraft and we sincerely hope you will enjoy your ride. Any questions, suggestions or comments you may have concerning your flight are cordially invited and no effort will be spared in our attempts to make yours an enjoyable one.

Your crew has been specially trained in all phases of flying and are picked for their job of passenger transportation. Their proficiency must be maintained to enable them to continue flying passengers, therefore your comments and suggestions serve a two-fold purpose - they make your trip more enjoyable to you and serve to help us assist the next passenger more ably and with more of a view toward his comfort.
FACTS ABOUT OUR SQUADRON
The 7167th Special Air Missions Squadron was organized by General John K. Cannon in 1948 at Headquarters USAFE, Wiesbaden, Germany, for the purpose of flying daily courier flights between Wiesbaden, Frankfurt, Bonn, Berlin, Munich, Salzburg, Vienna, Paris and London in addition to furnishing Air Transportation for Special Flights and Missions: i.e. VIP Personnel, entertainment troupes and flights of an emergency nature.

Our operations now serve personnel traveling throughout Europe, North Africa and the Near East and involving flights into some twenty-odd different countries, including occasional flights into Moscow, to furnish air transportation for the American Ambassador and his Embassy staff.

We fly nearly three and a half million miles annually and our crews are as familiar with the Brandenburg Gate in Berlin, the Acropolis in Athens, the Coliseum in Rome, Big Ben in London, or the Bull Ring in Madrid as the average person is with the corner Drug Store or town hall, so perhaps you will understand the pride we have in our squadron and help us by giving your suggestions and comments. That way we can continue to give you the service you deserve… Happy Landings!

7167th Air Transport Squadron (Medium)
Special Missions
APO 57 USAFE

COURIER DESIGNATIONS

Have you ever wondered why you are on "Papa 1" flight, "Victor 1" or perhaps "Foxtrot 1"? Well, it seems that a system of numbering or designating is not only desirable, but essential in any business and since the Air Force is a big business, we use what is called a Phonetic Alphabet to make aural spelling more readily and easily understood. Hence, when the Traffic Dispatcher announces a flight departure or arrival as "Victor 1" you are able to understand him much more easily that if he had said "Flight V-1" which sounds very much like "C-1", "D-1", or even "Z-1". A copy of the Phonetic is reproduced here for your convenience.



A - ALFA J - JULIET S - SIERRA
B - BRAVO K - KILO T - TANGO
C - COCA L - LIMA U - UNION
D - DELTA M - METRO V - VICTOR
E - ECHO N - NECTAR W - WHISKEY
F - FOXTROT O - OSCAR X - EXTRA
G - GOLF P - PAPA Y - YANKEE
H - HOTEL Q - QUEBEC Z - ZULU
I - INDIA R - ROMEO
COURIER FLIGHTS
FOXTROT 1 & 2: RHEIN MAIN to TEMPELHOF (Berlin)

Foxtrot 1 departs Rhein Main Air Base daily Monday through Friday with an average of one hour and forty minutes flying time to Berlin. Approximately thirty minutes after take-off you will be passing a few miles north of the city of Fulda, at which point a U.S. Air Force Radar station will begin monitoring your flight. Another eight minutes will find you entering the South Corridor and beginning your flight over Russian Occupied East Germany. The first city of any size will be Eisenach, passing just under the right wing if the weather permits you seeing it. Farther along your route you will fly over the Barbarossa Monument, the former Emperor's Castle which is located in the center of the corridor and affording your pilot a perfect check-point. After passing the monument you will fly over the Hettstedt-Gerbstedt Steel Mill area and then across the Elbe River at Aken, a few miles to the left of Dessau. Weather conditions permitting, you should be able to see the Russian Air Base at Zerbst just off the left wing, three or four minutes after crossing the river. There are usually several Jet-fighters of the MIG type on the field and sometimes they can be seen in flight in the area. At this point you are under Radar Surveillance by Berlin Air Traffic Control and they will control your flight up to the time you contact Tempelhof. Approximately five to ten minutes before landing you should be able to see the lakes around Potsdam and the city itself just to the left. Several landmarks in the city of Berlin that can be seen as your pilot is descending to land are the Funkturm, the large tower near the stadium built for the 1936 Olympics; the Brandenburg Gate, a checkpoint between the British and Soviet Sectors; The Garden of Remembrance, a Soviet monument to all Russian Troops lost in the Battle of Berlin; and lastly the Tempelhof Airdrome itself, one of the most unusual airports in the world due to its location, structure, and general appearance. On the return trip Foxtrot 1 becomes Foxtrot 2 and departs Tempelhof daily Monday through Friday, with perhaps a few minutes more flight time enroute to Rhein Main due to prevailing winds. The distance from Rhein Main Air Base to Tempelhof Air Base is 234 nautical miles, of which 176 miles of your flight will be over Russian Occupied East Germany.

ZEBRA 1 & 2: RHEIN MAIN to TEMPELHOF (Berlin)

Zebra 1 and 2 cover the same route as Foxtrot 1 and 2. More generally known as the Evening Berlin Courier, Zebra 1 departs Rhein Main Air Base each evening Sunday through Friday. Zebra 2 departs Tempelhof Air Base each morning Monday through Saturday.
VICTOR 1 & 2: RHEIN MAIN to WIESBADEN, PARIS and LONDON
Victor 1 departs Rhein Main Air Base daily Sunday through Friday. The first stop, Wiesbaden, is approximately ten minutes flying time. Ground Time generally runs about forty minutes to allow for loading of passengers, customs clearances and a last minute check of the Paris and London weather. Upon departure from Wiesbaden the flying time will average one hour and fifty minutes to two hours to Orly Field in Paris, depending on the winds aloft. Your route of flight will be over Bitburg, Germany, Luxembourg and then direct to Chatillon, a small town a few miles northwest of Eppernay and then to Orly Field. Weather permitting you should be able to see Paris and the Eiffel Tower. Ground time at Orly will generally run one hour to one hour fifteen minutes. Upon departure from Orly, the flight time to Northolt, on the outskirts of London, will average one hour forty-five minutes to two hours. The route of flight will be up over Abbeville, across the English Channel, over Chatham, across the east edge of London to Brookman's Park and in to Northolt Airport. Local time at Northolt Airport and in London will be one hour behind time at Paris. The time varies with the season of the year, so if you are traveling in the winter time you should set your watch one hour back upon landing. In the summer time the Local Time in London is the same as the Local time on the continent: i.e. Paris, Frankfurt, etc. After approximately one hour ground time, Victor 2 departs Northolt for Paris Orly, proceeding from Northolt to Dunsfeld then to Dieppe and into Paris. The flight will average from one hour thirty minutes to one hour forty-five minutes. Grount time at Orly will be approximately one hour before departure for Wiesbaden and Rhein Main. Flying time from Orly field to Wiesbaden will average about two hours with an extra twenty minutes allotted for the arrival in Wiesbaden. Upon arrival in Wiesbaden the ground time will run from twenty to thirty minutes to cover customs clearances and passenger unloading. Another ten minutes flight and Victor 2 arrives at Rhein Main. NOTE: Passengers traveling from Orly or Northolt to Rhein Main should not disembark at Wiesbaden. . . . you'd be surprised how many passengers we lose than way!



PAPA 1 & 2: RHEIN MAIN to ROME and TRIPOLI (Wheelus Field)

Papa 1 departs Rhein Main Air Base on Monday, Tuesday, Thursday and Friday bound for Rome. After departing Rhein Main the route of flight is westward across the Rhein and Moselle Rivers to Bitburg, then southwest to Luxembourg, Toul-Rosiere, and Chaumont. Heading southe from Chaumont, down the Rhone Valley over Dijon, Lyon and Montelimar to Marseille. From Marseille the flight proceeds across the Mediterranean to Rome where Papa flight junctions with Trojan flight from Athens at Ciampino Airport. Ground time at Rome will run approximately one hour and thirty minutes. Unpon departure from Rome, Papa 1 proceeds south to Palermo and Wheelus Field with flight time averaging three hours thirty minutes to four hours, depending upon the winds aloft. Papa 2 departs Wheelus Field, Tripoli, on Tuesday, Wednesday and Friday bound for Rome via the same route. On Saturday Papa 2 proceeds from Wheelus to Naples and then to Rome. Ground time at Naples will be approximately one hour. Ground time at Rome for Papa 2 will be approximately two hours. Upon departure from Rome, Papa 2 proceeds to Marseille and back up the Rhone Valley over Montelimar, Lyon, Dijon to Chaumont, Toul-Rosiere, Luxembourg, Bitburg and Rhein Main with a total flying time from Wheelus of approximately ten hours. QUEBEC 1 & 2: RHEIN MAIN to CHATEAUROUX, MADRID and NOUASSEUR

Quebec 1 departs Rhein Main Air Base bound for Chateauroux via Bitburg, Luxembourg, Troyes, France, St. Saulge, France, and direct to Chateauroux. Elapsed flying time will be approximately three hours, depending upon the winds aloft. Ground time at Chateauroux will run about one hour. Upon departing for Madrid, the route of flight will be from Chateauroux to Bordeaux, then south to Biarritz and west to Bilbao where you will head south over the Pyrenees Mountains to Getafe Airport at Madrid. As yet the Air Force has not obtained a very large base at Madrid and the accommodations at Getafe are extremely limited. Ground time at Getafe is one hour with departure time governed by refueling time. Upon departure from Madrid for Nouasseur, your route of flight takes you over Seville and Jerez to Tangier, then down the coast line over Larache, Port Lyautey, Rabat, and direct to Nouasseur on the out-skirts of Casablanca. The following morning Quebec 2 departs Nouasseur for the return trip to Rhein Main via the same route again stopping at Getafe and Chateauroux. Flying time from Rhein Main to Nouasseur will average ten hours.

THINGS TO DO AND SEE…

BERLIN: Due to the present state of affairs with Soviet Visa Regulations the airplane is practically the only means of transportation for us foreigners to reach the former German capital. A visit to this "Island of Democracy" is, however a very worthwhile experience and every serviceman and woman should have the opportunity. The people of Berlin have managed by an almost superhuman effort to become an important industrial and cultural metropolis again. A variety of events, numerous shows and operas, life along Kurfuerstendamm – the Berlin equivalent of 5th Avenue, all combine to make the city lively and interesting. Among the night clubs are The Orient, Quartiere Boheme, Petit Palais and Resi, with the famous "Water Show" along with numerous others to help you while away the evenings. During the day there are several small art galleries where you can enjoy paintings and sculptures, and during the summer there is a government (U.S.) sponsored golf course at Wannsee to test even the most hardened golfer. On two or three days each week the Special Services Section in Berlin runs a bus tour through sections of East Berlin with visits to the Garden of Remembrance, Stalin Allee, Brandenburg Gate and several spots of interest in the Russian, British and French Sectors. MPC's are accepted at all government installations and West Deutsch Marks are used in West Berlin. MPC's can be exchanged for Marks at some government installations and at Finance. The Columbia House with it's Zoom Room is a favorite stopping place as is the Harnack House.

WIESBADEN and MAINZ: Only a few miles west of Rhein Main at the junction of the Rhein and the Main Rivers, is Mainz, the two-thousand-year-old-city where Johann Gutenberg became the father of modern printing through his invention of movable type. It is now the center of th1e German Wine industry and the jumping off place and terminal of most Rhein River Boat Tours. All during the season of Lent, Mainz is a center of the Fasching Season, one of the most hilarious, uninhibited and free-for-all celebrations known to man. It is a celebration that makes the Mardi Gras look like an old maid's Whist game. Son, lock up your scruples and inhibitions and take it in. A few miles north of Mainz lies Wiesbaden, the capital of Hesse and a famous health resort with its warm springs and Spas. Here are located most of the Art treasures which were removed from the State Museums and Galleries of Berlin. Hotels for service men and women include Schwarzer Bock, Palast and the Rose, along with the American Arms. Numerous clubs where you can blow off steam are the Neroberg, Club 48, Eagle Club, and last but least the Walhalla, one of the many German nitery houses in the area.

PARIS: It is an impossibility to describe Paris in a booklet of this small size. . . There are various ways to see Paris if you have the means. You can either go on a guided tour, which will probably save you time, or you can strike out on your own and play it by ear. The government hotel in Paris is the Hotel Littre, located on Rue Littre just off Montparnasse and by stretching a point – on the Left Bank. . . The "City of Light" is, perhaps justifiably, the most famous city in the world. You can start walking down the Champs Elysees from the Arc de Concorde to the Avenue Gastart, and pass some of Paris' most well known Hotels and Restaurants. In those few short blocks you will pass through both business district and down a tree-lined avenue of park-like atmosphere. You should visit the Place de la Concorde, near which you will find the Church of the Madeline. Also you should be sure to visit Notre Dame on the Ile de La Citee and the Palais de Justice. The view of the U.N. Buildings is very good from the Eiffel Tower, just across the Seine, if you can bring yourself to trust the elevator going up inside the tower. The subject of Night Clubs in Paris would fill another book but you should make the effort to see the Folies Bergere (tickets can be obtained through the Littre Hotel) and the Casino de Paris. If you really want to go formal there's always Maxim's, Les Ambassadeurs, and Le Lido where you will get a bucket of champagne whether you order it or not, so take it from there. . .

ROME: Volumes have been written by many people about what to see and do in Rome, so consider this merely another checklist. There are several guided tours to museums, historical points of interest and night clubs that can be booked through the concierge of your hotel. Any street vendor, and there are thousands, will furnish you with a map of Rome showing the principal points of interest and at the same time try to sell you cameos, Berettas, Parker 51's and just about everything up to and including the Colosseum. Lire is the medium of exchange in Italy and the rate is officially 625 lire to the dollar. The American Dollar is looked upon with great favor in Italy but your safest and best bet is to convert your money either at Finance or a recognized Bank or Exchange. There are several good hotels in Rome, among them are the Mediterraneo, Nord, Majestic, Flora, Continentale, Bernini Bristol, and if you want something a little better at about sixteen dollars per day including meals try the Excelsior, Hassler, or the Ambassador. Without meals they run about seven. Italian food is rich, saucy and spiced so you had better take it easy for a while. Above all, look out for the concoction they call Café Espresso. It's a bitter, strong coffee especially brewed in a plumber's nightmare similar to a Rube Goldberg contraption called Espresso Machines which use forced, compressed steam to make the coffee, and to the uninitiated it's much the same as drinking U-235. For those of you who like your ham and eggs with coffee for breakfast you should try California. Since no two Romans, much less foreigners, will agree on restaurants it will be up to you to make your own choice, however you might try Il Cubo, Mario's or Alfredo's. Of these, Alfredo's is probably the most famous and the biggest tourist attraction. The Old Man features Fettuchini, am egg noodle covered with numerous kinds of cheese and whipped up with a flair seldom seen in restaurants. Il Cubo has a very nice Pizza, but there have been big hassles over the subject. Night life in Rome is almost as varied as it is in Paree, some people will say "More so", anyway, you are on your own . . . . . .

WHEELUS: Stay in the club and watch TV . . . . . . . .

MADRID: The land of the Bullfight and Senoritas is indeed a land of color with brilliant blue skies most of the time. Many different influences have shaped the country and they are all reflected in the architecture. There is music and gaiety in Spain, and a local color that is not duplicated elsewhere in the world. The Spaniard is unfailing courteous to strangers, and although they may not understand you, they will at least make the effort. Food is wonderful, hotels are good, and the tempo is restful. – It's a wonderful spot to rest, because they won't let you hurry. Almost any of the hotels are good, from the Castellana Hilton, Ritz, Palace or the Wellington right on down through the Plaza, Savoy Menfis. Quite a few of the service people traveling into and out of Madrid make the Savoy their regular stopping place. In addition to the hotel dining rooms, there are several good restaurants in Madrid. You might try Henry's, where you may go downstairs after you eat and watch a troupe of Spanish teen-agers do the age-old Spanish dances. They really stomp up a storm. You will find things running a little later in Madrid than you have been used to – since the cocktail hour generally runs on to nine or nine-thirty p.m. with dinner then being served from ten until midnight. After dinner things really begin coming to life and they keep on going until daylight. Such places to try will include the Casablanca, Fontoria, Pasapoga, Rex, or the Castellana Hilton's Rendezvous Room. Doubtless there are many, many others. During the daytime the shops all over town close from one until three or three-thirty and then are open again until seven p.m. The siesta is no joke here, they take it seriously. The rate of exchange in Madrid gives the traveler the best end of the deal in that the official rate is anywhere from thirty-eight to forty-three Pesetas to one American Dollar. If the American Embassy is not open to you the best rate will be that at the Banks.

NOUASSEUR: The thing to do in Nouasseur is, if at all possible, get to Casablanca, and don't let the grass grow under your feet doing it! Since Nouasseur is a relatively new base, things are not yet up to par there. Casablanca is one of the newer and more modern cities in French Morocco, along with Rabat, Marrakech and Tangier. There are no government quarters available at present in Casablanca but there are several good hotels where you can stay. One of the more recently constructed hotels is the Marhaba. another famous one is the Anfa, located on Anfa Hill, on the outskirts of the city. This one is where President Roosevelt met with Prime Minister Churchill back in 1942. Other good hotels are the Noailles, Transatlantique and the El Mansour. French food is available at nearly all the restaurants and a few of these are the Cazenave, La Reine Pedauque, Le Roi De La Biere, l'Oasis and le Panoramique on top of the Anfa Hotel. For Seafood there's La Mer, l'Amiraute and la Caravelle located down on the seashore. If you have a taste for Spanish food, you might try the Esperance, Las Delicias and the "le Celtique". In Morocco the monetary unit is the Moroccan Franc, which is equal to the French Franc with the official rate of exchange at 350 francs to the dollar and again your best bet is to exchange your MPC's at Finance before leaving Nouasseur or if you are using the long green you can change your money with the Banque d'Etat du Maroc in town. Casablanca is a new and modern city built around what used to be an old Arab village, now called the Old Medina. It's a very interesting trip to visit the Medina and if you've never been through one you should get someone who has to show you around. There are bargains to be had but remember, those guys are horse-traders from away back . . . . . . Other places to look around are the Sultan's Palace, Anfa Hill, the many fine sand beaches and swimming pools along the shore.

LONDON: The largest city in the world with a population equal to that of New York and Cincinnati combined is, with all its differences, the closest thing to Walla Walla or Oklahoma City you'll find over here. The main reason for this is the language, and remember, if they sound funny to you -- they did have the language first and if they still want to talk the way they did back before John Hancock affixed his John Hancock to the Declaration back there in '76, don't be too critical -- tolerate 'em. The city itself is filled with historical interest so you should see as much of it as you can. You should see Westminster Abbey, Big Ben, Tower Bridge and the Tower of London. Go down to Whitehall to watch them change the Guard and also see the Houses of Parliament and St. Paul's Cathedral. Another place of interest is Mme. Tussaud's Waxworks. You may get a kick out of some of the soapbox orators on Hyde Park Corner on Sundays, also. The British monetary system is, naturally, a fouled up mess. . . . . . They have Tuppence, Thruppence, Shillings, Bob, Pounds, Farthings, Guineas and all designed to keep Americans in a quandary. To start with, the Pound is worth $2.80 and it is divided into twenty shillings, which are in turn divided into twelve pence. So figure roughly seven shillings to the dollar and you will come out O.K. The British, with their affinity for the American dollar, will let you bring in an unlimited amount of American currency but you can't take more than Five Pounds Sterling out. MPC's are good at the exchanges (Post Exchanges on the bases), the Navy's Ship Store and Snack Bar on Grosvenor Square and can be changed for Pounds at Finance. There are several good hotels beside the Swanky Claridge's. Some of these are the Cumberland, Regent Palace, Strand Palace and the Kensington Park, with rates beginning at three to four dollars. Government quarters are available, so check with the Traffic man at Northolt. You may also have the opportunity to see some late shows while in London, both movies and stage plays. The Palladium is the home of Vaudeville and there are several legitimate theatres in town.

FRANKFURT: Frankfurt-on-Main, the first large city one encounters after landing at Rhein Main Air Base, is the city where Goethe, the creator of Faust, was born. It is also a West German city of commerce and industry and of international fairs and expositions. Considered the Gateway to Europe by Service personnel traveling by air, Frankfurt, being the first contact with Germany for many people, does much to create the air of industry and perseverance that has brought Germany from the rubble and chaos of World War II to the present high economic standing she enjoys among the rest of the European countries. Nothing has changed the basic beauty of Germany and the people have a true desire to make the tourist happy and comfortable. While here you should see the Rhein Valley, the Black Forest, Bavaria and the Alps if time permits. In addition to the government hotels in Frankfurt: the Carlton, Bassler Hof, and Excelsior, there are several nice civilian operated hotels such as the Frankfurter Hof, Hotel Savoy, Hessischer Hof and the Hotel Monopol-Metropole. Meals are inexpensive by United States standards and some of the better restaurants are the Grillroom Frankfurter Hof, Restaurant zum Kaiserkeller, Brueckenkeller and the Hamburger Hof. Along with the famous German cooking you must try the wines for which they have become so famous, Rhein, Moselle and many others. The beer is quite different from the highly carbonated Stateside varieties and also quite potent. Since the German people are such lovers of music you will find it everywhere, from the Bierstubes to the Concert Halls. Almost every German city has it's philharmonic orchestra and for lovers of classical and semi-classical music there are concerts to attend. As for night clubs, some of the best ones in Frankfurt are the Astoria Bar, Tabu, Trocadero-Bonbonniere and the Lippizianer Bar in the Frankfurter Hof. For Bavarian atmosphere be sure to try the large beer-hall Alt Bayern. The monetary unit in Frankfurt and the rest of West Germany is the Mark, valued at about 23.8 cents in American money. The official rate of exchange at Finance is four Marks twenty Pfennings to the dollar and you can exchange your MPC's at most government installations.

If you are planning to be in Germany for very long on leave or furlough and want to make the most of your stay here, it might pay you to check in with Special Services to find out about the many Tours, recreational activities, and other items of interest. The two Rest and Recreation Centers at Garmisch and Berchtesgaden are very enjoyable in any season and are located in some of the most beautiful country to be seen anywhere.

For those of you traveling on duty or temporary duty let us again express our hopes that that yours has been a pleasant flight and that we may again have the pleasure of having you with us. Auf Wiedersehen.

7167th Air Transport Squadron (Medium)
Special Missions
APO 57 USAFE